THE FINEST QUALITY ITALIAN OVENS FEATURED IN OUR STUNNING OUTDOOR KITCHEN DESIGNS

Our bespoke outdoor ovens and kitchens – adopted by celebrities, rich-list names and homeowners with a defined budget – have a superb Italian artisan-built oven at their heart, a robust base and a custom designed and inspiring kitchen surround, suiting your desired aesthetic. Choose an oven, describe your concept and let our specialist design-and-build team guide, advise and turn your vision into a reality.
WITH YOU EVERY STEP
OF THE WAY
Commission a custom outdoor kitchen and/or wood-fired oven installation with us, and you will walk in the footsteps of celebrities. Describe your ideas to us and let our specialist design-and-build team guide and advise you through each step of the creative journey turning your vision into a stunning reality.
We provide a full turnkey project managed design and build service. Our listening and supportive team are with you every step of the way, ensuring that the creation we build for you meets your expectations and provides satisfaction for years to come.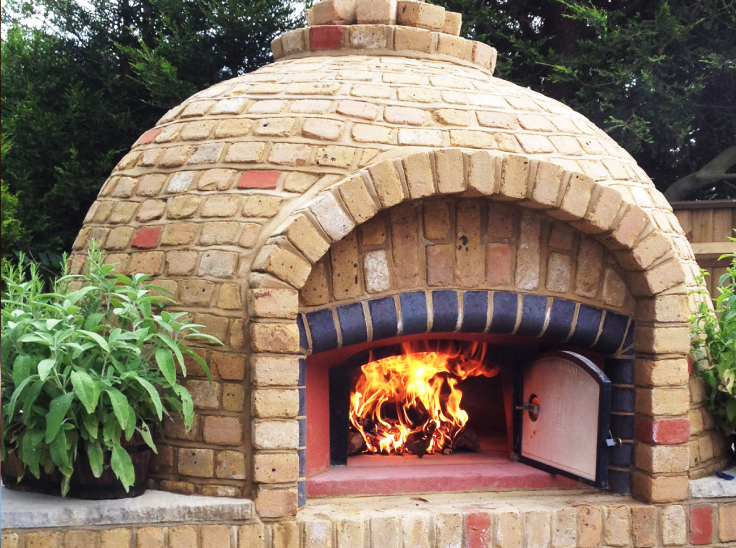 A LITTLE KITCHEN INSPIRATION
LET'S BUILD YOUR DREAM KITCHEN
Just a phone call or email away, we listen and discuss with you what's involved in creating your vision and the best way to achieve it within your budget. We'll carryout an on-site or remote survey and submit designs along with a quotation for your approval. Don't worry if you need to make changes to the design. We want to ensure you are happy with what's agreed.
When you order, our project team then take over planning the actual installation and all that's required. We agree with you a start date, site access and services needed. We ensure that our artisans are there at the right time with the right materials (incour brick matching service as applicable) and supply and connect all additional appliances/accessories as may be specified. During the build, we provide regular updates on progress along with images and videos as needed.
On completion of all works we carry out a handover inspection to ensure our extremely high-quality standards are met. We clean the site thoroughly and dispose of waste. A mini-coaching session is usually held with you to ensure you are happy with lighting and operating your oven and any other cooking/kitchen devices installed by us. A handover pack of useful instructions and references is provided.
Your vision is now finished and all there is to do now is enjoy it, and we even help there by providing a pizza starter kit (for 6) to get you off and running with your oven. We love to welcome new customers to the Orchard Ovens family and encourage our customers to share their experiences with us. We have a supportive website for recipes and advice and a social media following who exchange ideas and recipes too.
TAKE A LOOK AT SOME OF OUR RECENT OUTDOOR KITCHEN INSTALLATIONS
Nothing says personality and style like your own bespoke garden oven and kitchen installation, created in your preferred outdoor space location and built to your own vision.  Go rustic, Swiss chalet, Taj Mahal or even African rondavel –it's all been done.  
Putting an Orchard Ovens' oven –using Italy's finest brand 'Valoriani'  -at the centreof your design enables you to follow in the footsteps of celebrity chefs like Jamie Oliver and many other A-listers, all discerning buyers who wanted the best for their outdoor space. 
SOME OF THE PLACES WE HAVE BEEN

I have one of your Wood fired ovens which takes pride of place in my garden. It's one of the best investments I have ever made. It makes the best pizzas you have ever eaten but is so versatile that it can be used for almost anything…
Read the full case study here
– MR LISTER, LANCASHIRE, UK