With Easter just around the corner, our thoughts turn to cooking delicious seasonal food and what's more in-season at Easter than lamb? Easter presents the perfect opportunity to fire up your Valoriani wood-fired oven and create an Easter feast using the finest ingredients, including this seasonal meat.
Here at Orchard Ovens, we need no excuse to invite friends and family round for a wood-fired banquet. Our wood-fired roast lamb is extraordinary and probably the best you'll ever taste – how delicious does it look in the picture? Whether you have a ready-to-go wood-fired Fornino oven, a Valoriani oven that's at the centre of a bespoke garden build, or a wood-fired oven as part of your outdoor kitchen, this is something you can easily cook.
Lamb cooked in a wood-fired oven
Lamb is one of the most important celebratory foods eaten at Easter, traditionally served as part of the main Easter Sunday lunch, but whether it's roasted, slow-cooked or grilled, this incredibly versatile meat will always be enjoyed at its very best when cooked in a Valoriani wood-fired oven.
This is because the Valoriani wood oven creates the optimum environment for cooking tender meat, such as lamb. The artisanship that goes into the oven is all about ensuring that everything cooks in a way that any proud home cook – or professional – would want, with no temperature frustrations or cold spots.
The temperature performance of a Valoriani oven is incredible, thanks to the unique cotto clay and built-in insulation, which allows the internal chamber to retain heat consistently. Intense heat can be used for roasting; keeping the meat tender on the inside and beautifully charred on the outside, if protected with foil for part of the cooking process. Alternatively, low and gentle heat – including the residual heat left over after a day's cooking with your oven – can be used to slow-cook, producing a melt-in-the-mouth meal.
Whilst we know roast lamb will probably be your number one choice for your Easter Sunday celebrations, we're giving you another 5 brilliant lamb recipes to try in your wood-fired oven.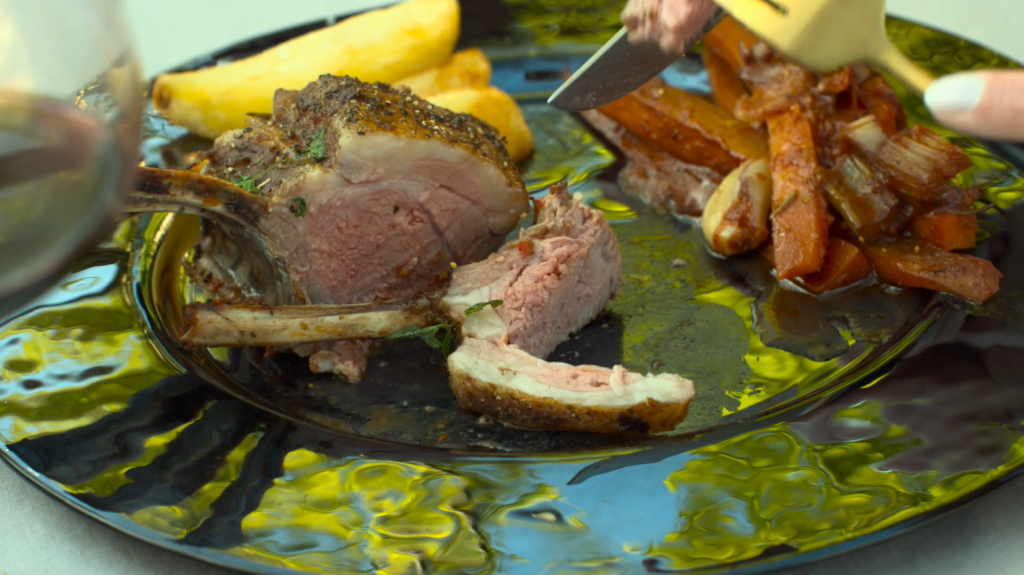 Lamb recipe suggestions for the wood-fired oven
If you want to keep things relaxed and fuss-free, this all-in-one, slow roast Ratatouille Lamb Shoulder from Good Housekeeping is the perfect recipe. Whilst still allowing the lamb to be the main event, this no-stress recipe means you simply throw everything into a deep dish and let the wood-fired oven do all the work. Garlic, herbs, honey, onion, tomatoes, beans, aubergine and courgettes compliment a hearty shoulder of lamb, slowly cooked in very gentle heat within your wood-fired oven. Crispy roast potatoes sprinkled with salt and crushed rosemary can be added to the oven for the final hour of cooking (or so) as an accompaniment.
For something totally unique, this Lamb Wellington by Ravinder Bhogal is sure to impress your guests. With a mix of Greek and Middle Eastern flavours, this is a dish worth sharing and offers a somewhat lighter alternative to a full roast dinner. Tender lamb loin fillets are stuffed with feta and suma and then wrapped in a rich, buttery pastry and served with a suggested accompaniment of new potatoes and wilted spinach.
If you really want to break away from tradition, try these Spiced Lamb and Barberry Kababs from Delicious Magazine a mouth-watering recipe created by British-Iranian chef, Sabrina Ghayour, and one that is ideal for bigger gatherings when larger quantities may be needed at the last minute. The lamb kababs will cook quickly and perfectly on the Tuscan grill accessory, which you can purchase to use inside your wood-fired oven. Serve simply, as the recipe suggests, with pomegranates and yoghurt.
If your plans include a traditional roast lamb, it should of course include mint sauce but what about a splash of rum? This simple recipe from www.foodandwine.com, by cookbook author Jessica B. Harris, has two unique twists – mint-rum sauce and lavender!
Garlic-infused lavender and thyme is liberally used to season the lamb, which once roasted, is served with crispy potatoes and lashings of mint-rum sauce.
Whilst there's still a chill in the air at this time of year, this hearty lamb, aubergine and olive stew by Georgina Hayden is a welcome and warming treat that's perfect for small or large family gatherings. Prepare ahead of your guests arriving and leave to bubble away in your wood-fired oven, checking it as you go. This is comfort food at its very best! Serve with crusty bread or creamy mashed potatoes.
For help making special occasions even more memorable, why not give us a call to discuss how you could incorporate an artisan-built Valoriani oven into your home and create celebrations to remember – call us on 01772 250000 or email info@orchardovens.co.uk